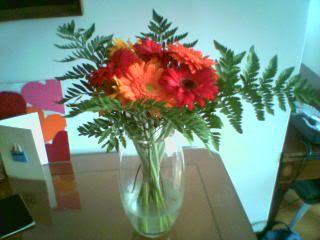 On Monday afternoon I was traveling on a bus, on my way to see Boyfriend. He was supposed to meet me about eight blocks from the bus stop, so when the bus stopped, I hopped off and began to walk. I got a call on my cell phone - from him - and he asked me why I was walking so fast. I raised an eyebrow. Was I breathing heavily when I answered the phone? Why would he think I was walking fast? I said,
"I'm not,"
and he replied,
"Yes, you are, I can't catch up with you."
I whirled around to catch a glimpse of him behind me, halfway down the block, with flowers.
This is the second time he has surprised me with flowers. He did it one morning while I was still interning, called me at the office and told me to come downstairs.
Il Migliore
, I swear.
Now, remember that teeny tiny problem I mentioned when I first wrote about him? Yeah,
that one
. In ten days, he is moving away due to circumstances beyond our control. 1,800 miles from me.
So, our days are numbered. Virtual breakdown imminent. Stay tuned readers.