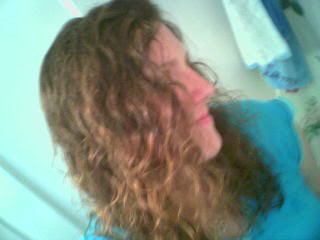 Happy
HNT
! I bit the bullet and got a haircut. And another perm, while I was at it. What can I say? I'm lazy when it comes to my hair. I have gotten cuts and styles in the past that required blow-drying and it just ain't happening again. Flipping my hair back and forth a few times (with gel added for good measure) is about as girly as I get. I was not meant to have straight hair, God, what were You thinking?
Spending an afternoon in a beauty salon is always fun. I have the stereotypical talkative hairstylist. She's the best. I can predict the conversation before I get there. Stylist yells at me for not having come sooner. She calls my hair disgusting (I'm not offended, usually I'm inclined to agree with her.) She and the other stylist have forgotten that Mother is my mother. At some point I call her
"Mom"
and they freak out because Mother couldn't possibly be old enough to be my mother! They fill us in on everything that's going on in the old neighborhood (they are located a few blocks from my old house, I cross a bridge to get to them, I am one
loyal
woman). Mother makes some comment to Stylist about making me look good for
insert current-boyfriend's/crush's/loser-Mother-wants-to-set-me-up- with's name here
. I roll my eyes at her in the mirror in order to convey that she is offending my feminist sensibilities. Stylist asks for details about said fellow. She finishes my hair, calls me beautiful, and yells at me once last time for not having come sooner. She has given Mother a cut and style that Mother drools all over, until she gets home and looks at it again. Mother then proceeds to wash it out and do it the way she wants after all.