Before I begin this feminist rant that is cross-posted at
the Feminist Pulse
, let me say that the lightbulb went off today on the perfect costume. I'm not revealing it until after Halloween but it's amazing.
I never knew you could learn so much about socialized gender roles by looking through a party store circular, but apparently you can. I got one in the mail the other day and not having found a costume yet, I decided to peruse it. Well, I did, and what I found is quite interesting.
Here is a sampling of the male and female costumes in various age groups:
Toddler Boys
Superheroes: Batman, Robin, Superman, Spiderman, Buzz Lightyear
Male professions: Fireman, Policeman, Cowboy, Soldier
Toddler Girls

Cheerleader, "Barbie Team Spirit," Princess, and to their credit, Supergirl.
Boys (sizes 4-14)
Superheroes
Male professions: same as before, now including Air Force Pilot, S.W.A.T. Team, and "Mac Daddy," which, judging by the costume, is a euphemism for pimp.
Violent characters: Freddy, Jason, Warrior, Crypt Master, Zombie, Vampire
Girls (sizes 4-14, not teen girls, but children)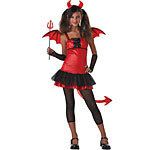 Disney princesses
"Pretty Bride" (though I didn't see "Handsome Groom" being sold to boys), "Runway Diva" with a very short skirt, "Major Flirt" (a sexy military costume), "Miss Behaved" (a pink striped prison outfit with broken shackles on the girl's wrist), "Devilicious" with pink hot pants and wings and - I kid you not - "French Maid."
Female professions: Nurse, "Hollywood Starlet"
Teen Girls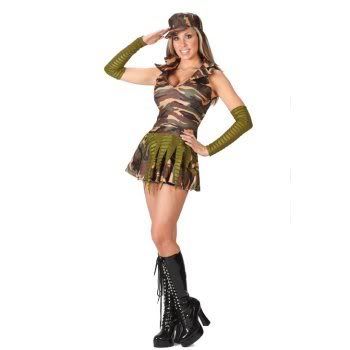 "Army Girl" with insanely short camouflage shorts and cleavage, "You Sexy Witch," "Barbarian Babe," "Fashion Police" and of course the French maid outfit.
Adult costumes are similarly divided. ALL women costumes (with the exception of the nun outfit) are skimpy and "sexy." NONE of the men's costumes are. Women are sexy cops and military babes, but never Police Women or Soldiers.
I think the most disturbing, however, is the hyper-sexualization of girl children.